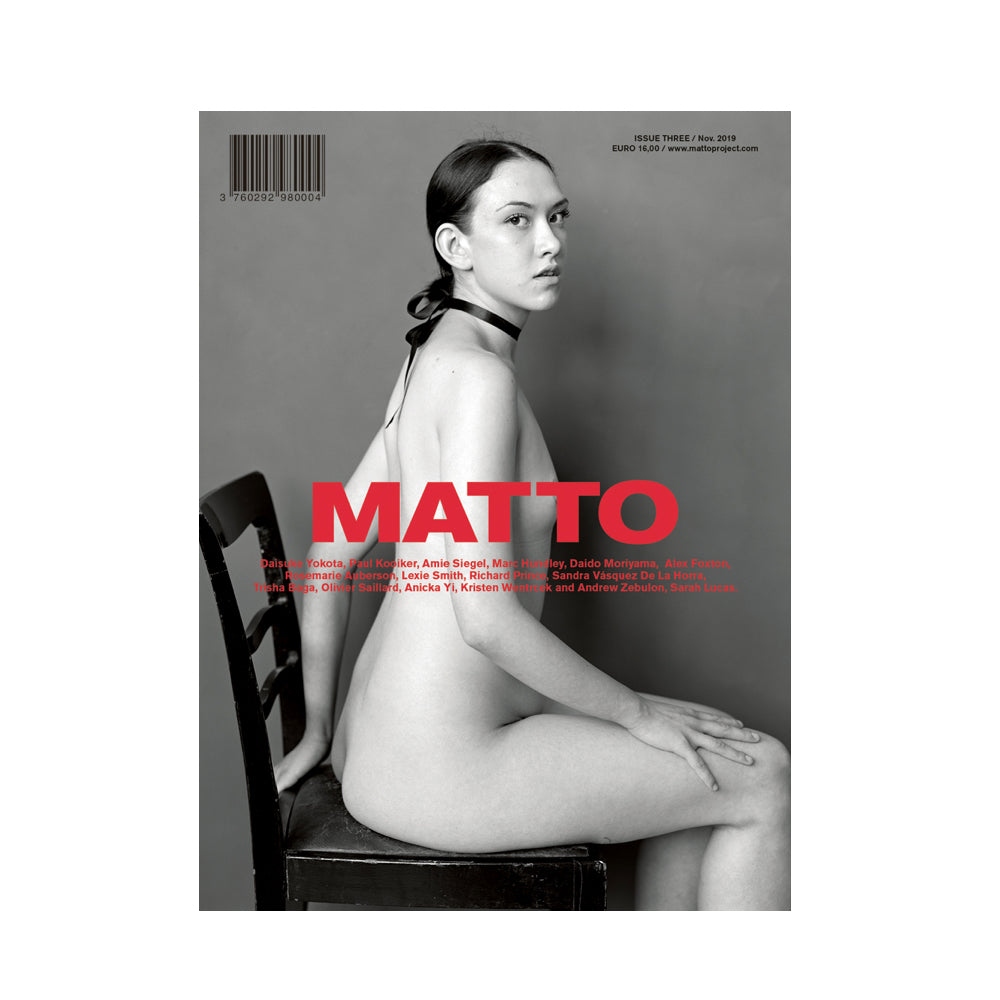 MATTO MAGAZINE Issue 3
Studio Visits and Conversations.
Contemporary Art / Fashion / Design / Photography.
MATTO MAGAZINE was launched in December 2018 by creative directors Aldo Buscalferri and Dominika Hadelova. It is a Paris-based biannual publication featuring studio visits and in-depth conversations with artists and designers, as well as literary texts, another-angle features on fashion and photography series.
Aldo Buscalferri has worked over the past fifteen years as a creative director for fashion, art and travel magazines such as Rolling Stone, GQStyle, L'Officiel Art and L'Officiel Hommes. Dominika Hadelova has background in Contemporary Art and Printmaking, having worked at the Tyler Print Institute in Singapore in conceptual art development in paper, as well as on various art projects in Scotland, Switzerland and Brazil.
In the third issue, an interview with SUZANNE TARASIEVE, a renowned Parisian gallerist who recently celebrated forty years of her activity; a literary feature on Jonas Mekas and translation by CHIARA ZOCCHI, an award-winning Italian novelist; photo series by Berlinbased THOMAS HAUSER; a conversation with fashion designer KOSTAS MURKUDIS; a studio visit with FORMAFANTASMA, a design duo in Amsterdam presenting at the Serpentine Galleries; a personal photo series by Swedish JH ENGSTROM, a conversation with Korean haute-patissier YOHAN KIM; photography by JUERGEN TELLER; conversation with ANOUK BECKERS, a researcher and designer of modular clothing system, fashion critique essay on designers and ornament written by FEMKE DE VRIES; interview with 90-year old Czech avant garde artist STANISLAV KOLIBAL; a conversation on the invisible with artist and breathwork teacher LAUREN SPECER KING; studio visit with artist DRIANT ZENELI in Tirana, Albania; series of paintings by OSCAR MURILLO and fiction by ROOKSANA HOSSENALLY; interview with ANTHONY CAIRNS on forgotten photography techniques.