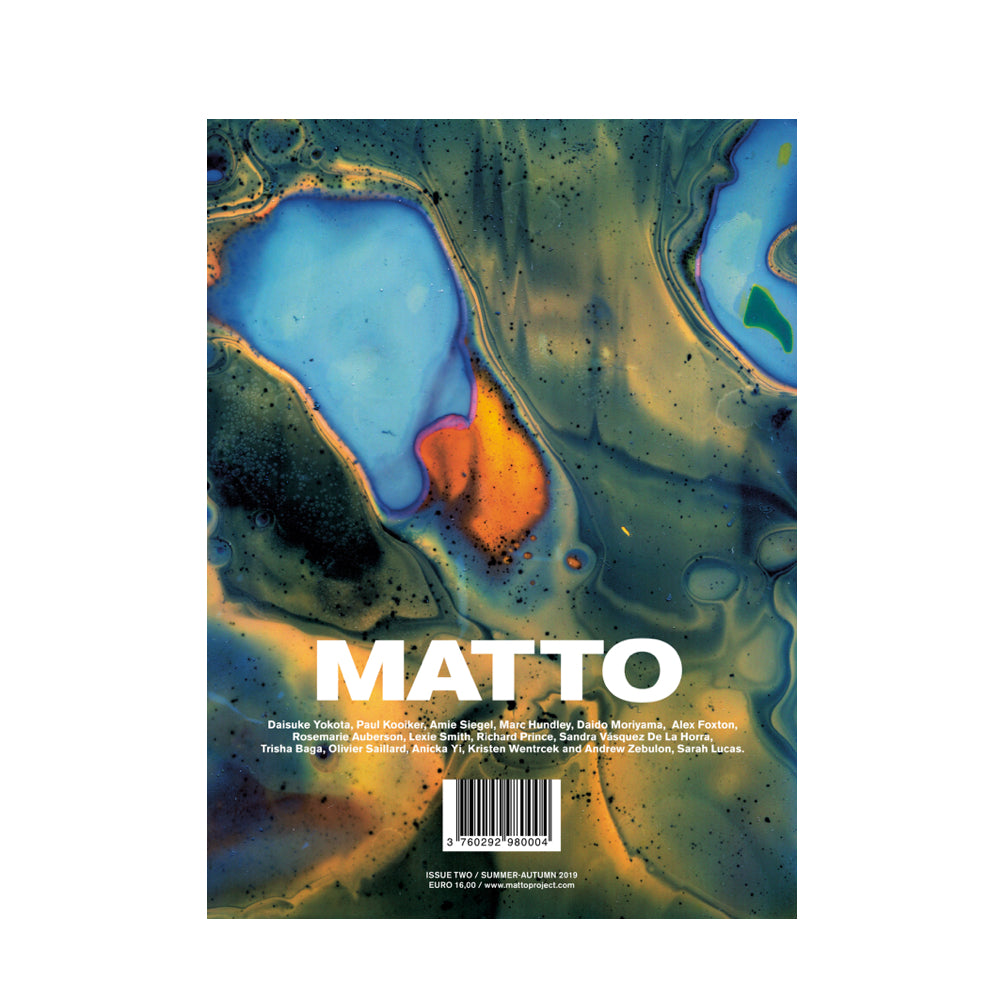 MATTO MAGAZINE Issue 2
Studio Visits and Conversations.
Contemporary Art / Fashion / Design / Photography.
MATTO MAGAZINE was launched in December 2018 by creative directors Aldo Buscalferri and Dominika Hadelova. It is a Paris-based biannual publication featuring studio visits and in-depth conversations with artists and designers, as well as literary texts, another-angle features on fashion and photography series.
Aldo Buscalferri has worked over the past fifteen years as a creative director for fashion, art and travel magazines such as Rolling Stone, GQStyle, L'Officiel Art and L'Officiel Hommes. Dominika Hadelova has background in Contemporary Art and Printmaking, having worked at the Tyler Print Institute in Singapore in conceptual art development in paper, as well as on various art projects in Scotland, Switzerland and Brazil.
A cover and photography portfolio by Japanese artist DAISUKE YOKOTA; a photo series by DAIDO MORIYAMA; a piece of writting «Models Never Talk» and conversation with OLIVIER SAILLARD, the former director of Museum of Fashion - Palais Galliera in Paris; a studio visit with TRISHA BAGA, an acclaimed American artist working in 3D video and installation; an interview and home visit with a painter and fashion designer ALEX FOXTON; a conversation with MARC HUNDLEY, an artist and furniture designer in New York; an interview with Korean-American artist and winner of the Guggenheim Museum / Hugo Boss Prize ANICKA YI; a studio visit with experimental furniture duo KRISTEN WENTRCEK and ANDREW ZEBULON, experimenting with materials and our memories; a feature with the founder of electro-techno record label BANK RECORDS in New York; a conversation with lm maker and artist AMIE SIEGEL questioning the value and authenticity of collectible objects; a home visit with Swiss-Japanese painter ROSEMARIE AUBERSON; piece of writing by EDUARDO CASSINA on Fundamentals; a photo series PAUL KOOIKER playing with perception; a home visit and interview with LEXIE SMITH discussing bread and politics around it; portfolio of drawings « Ladies of the Land of Death» by Chillian artist SANDRA VASQUEZ DE LA HORRA; and featuring work by RICHARD PRINCE and SARAH LUCAS.