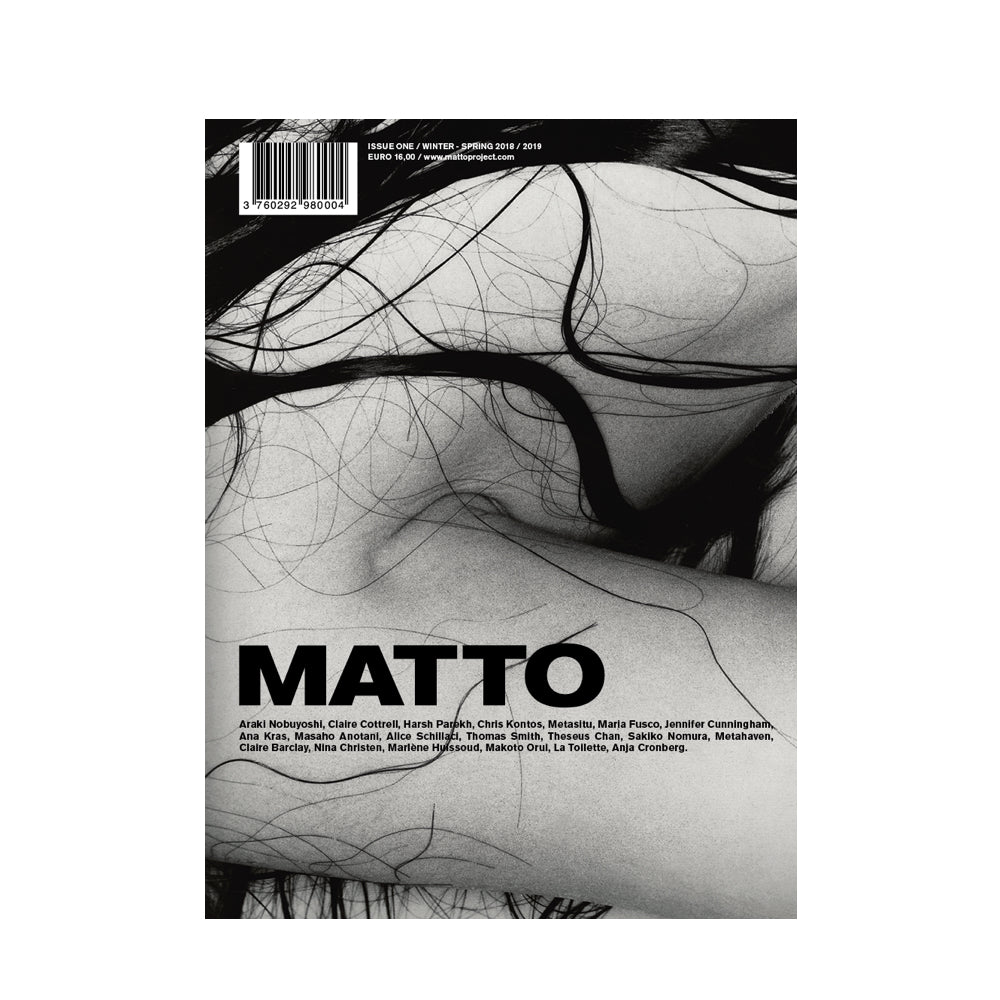 MATTO MAGAZINE Issue 1
Studio Visits and Conversations.
Contemporary Art / Fashion / Design / Photography.
MATTO MAGAZINE was launched in December 2018 by creative directors Aldo Buscalferri and Dominika Hadelova. It is a Paris-based biannual publication featuring studio visits and in-depth conversations with artists and designers, as well as literary texts, another-angle features on fashion and photography series.
Aldo Buscalferri has worked over the past fifteen years as a creative director for fashion, art and travel magazines such as Rolling Stone, GQStyle, L'Officiel Art and L'Officiel Hommes. Dominika Hadelova has background in Contemporary Art and Printmaking, having worked at the Tyler Print Institute in Singapore in conceptual art development in paper, as well as on various art projects in Scotland, Switzerland and Brazil.
In the first issue, a 24- page portfolio by ARAKI NOBUYOSHI; an interview and home visit with urban research duo METASITU based in Kiev/Athens; a studio visit with a Japanese artist MASAHO ANOTANI in Tokyo; an interview with a Swiss-Chilean shoe designer NINA CHRISTEN, head-designer at Bottega Veneta; an interview with METAHAVEN on their video work at ICA London; non-fiction by Irish writer and lecturer MARIA FUSCO; an interview with an Indian designer HARSH PAREKH working at Maison Lesage; photography by awardwinning director CLAIRE COTTRELL based in Los Angeles; a conversation on unusual materials with a Scottish installation artist CLAIRE BARCLAY; a reportage of a fetish soiree Department-H in Tokyo by SAKIKO NOMURA; collages by MAKOTO ORUI; a studio visit with experimental designer MARLENE HUISSOUD working with insect waste; an interview and photography series by ANA KRAS, a Serbian photographer-designer based in New York; a conversation on sartorial matters with ANJA CRONBERG, the founder of Vestoj; a photography series by ALICE SCHILLACI; a reportage from a clubbing soiree LA TOILETTE in Paris, and a special design feature by THESEUS CHAN from WORK Pte. Ltd. Singapore, working closely on projects with Rei Kawakubo.
Shipping starting from April 3rd 2020.